B&N Puts the Nook HD+ on Sale for $149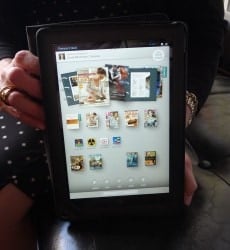 If you happen to live in NY, Ill., or MA then I am very jealous right now because you have a chance to buy a Nook HD+ for $149.
It's been reported over at MobileRead (and confirmed by a B&N source) that Barnes & Noble is running a special promotion at the moment. A select handful of test stores in NY, MA, and Ill. are currently selling the Nook HD+ for $149, a significant discount from $the usual retail price of $269.
This offer is not available online, and I don't have a list of the stores involved. But I have been told that the offer is good through 30 April, and my source has also told me that in at least one store nearly as many of the media devices have been sold to employees as were sold to the general public.
Update: I now have confirmation that this deal is offered in at least one store in Illinois, with 30 stores across the country participating in the trial.
The Nook HD+ is a 9″ media tablet that launched last Fall to good reviews but has had minimal success in the market. It has gone on sale repeatedly in the past 7 months, including a BOGO sale that added a free Nook Touch.
So, B&N is running another special. I wonder what they want to achieve?
With most sale offers it's clear that B&N is trying to move stock, but with the unannounced promotion I am not sure what B&N wants to achieve. This does not strike me as a serious attempt to find a new price point; the price is far too low.  Perhaps this is a controlled torrent of a sale in an effort to reduce stock.
I don't know. Any guesses?
The post B&N Puts the Nook HD+ on Sale for $149 appeared first on The Digital Reader, a site you can support by shopping at Amazon
.
About Autor:
Leave a Comment